How Much Does Interior Car Detailing Cost?
Taking care of your car's interior is essential for maintaining its appearance and value. Interior car detailing involves a thorough cleaning and restoration of various surfaces, leaving your vehicle looking and feeling fresh. However, before you schedule a detailing service, it's important to understand the cost associated with it. In this article "How Much Does Interior Car Detailing Cost?", we will explore the factors influencing interior car detailing cost, different types of detailing services available, pricing breakdown, the DIY vs. professional debate, tips for finding the right service, questions to ask before choosing a detailer, maintaining the results, and answer some frequently asked questions.
Factors Influencing "How Much Does Interior Car Detailing Cost?"
The cost of interior car detailing can vary depending on several factors. These factors include:
Expertise and Reputation of the Detailing Service
The reputation and expertise of the detailing service provider play a significant role in determining the cost. Well-established and reputable detailers often charge higher prices due to their experience and track record of delivering high-quality results.
Size and Type of the Vehicle
The size and type of your vehicle can also impact the cost of interior detailing. Larger vehicles, such as SUVs or vans, typically require more time and effort to clean thoroughly. As a result, the cost of detailing these vehicles may be higher compared to smaller cars.
Condition of the Interior
If your interior is heavily soiled, stained, or has unpleasant odours, it may require additional cleaning and treatment, which can increase the overall cost.
Additional Services and Customization
Some detailing services offer additional treatments and customization options. These can include deep stain removal, odor elimination, leather conditioning, fabric protection, and more. Opting for these additional services will naturally increase the cost of interior car detailing.
Different Types of Auto Detail Service
Interior car detailing services can vary in terms of the level of thoroughness and extent of cleaning provided. Here are the different types of detailing services commonly offered:
Basic Auto Detail Service
Basic interior detailing typically involves a surface-level cleaning of your car's interior components. This includes vacuuming the seats and carpets, wiping down surfaces, cleaning windows, and removing any visible dirt or debris. It is an affordable option for regular maintenance.
Deluxe Auto Detail Service
Deluxe interior detailing goes a step further by providing more comprehensive cleaning. In addition to the services included in basic detailing, it may involve steam cleaning, shampooing carpets, treating leather upholstery, and thorough cleaning of hard-to-reach areas.
Premium Auto Detail Service
Premium interior detailing offers the highest level of cleaning and restoration. It includes all the services provided in basic and deluxe detailing, along with additional treatments for deep stain removal, pet hair removal, odour elimination, and specialized cleaning products for specific surfaces.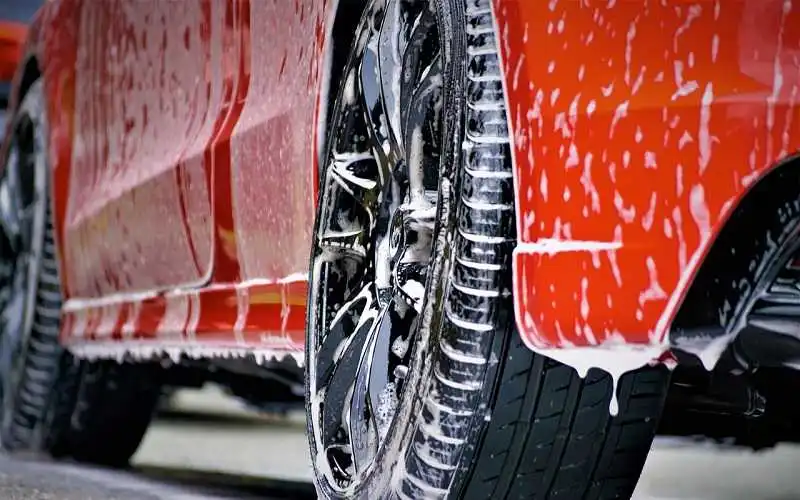 Breakdown of Pricing for Interior Car Detailing
The cost of interior car detailing can vary depending on the service provider and the level of detailing you choose. Here is a breakdown of the average cost range for different detailing services:
Basic Interior Detailing: $50 to $100
Deluxe Interior Detailing: $100 to $200
Premium Interior Detailing: $200 to $400 or more
It's important to note that these are rough estimates, and the actual prices may vary based on location, vehicle size, condition, and additional services requested.
Additional Charges for Specialty Treatments
If your car requires speciality treatments such as paint correction, headlight restoration, or engine bay detailing, there may be additional charges. These services require specialized equipment, products, and expertise, which can increase the overall cost of detailing.
Discounts and Package Deals
Many detailing services offer discounts or package deals to attract customers. These deals can include combinations of interior and exterior detailing services at a discounted rate. It's worth inquiring about any available discounts or packages to potentially save money on your car's detailing.
DIY vs. Professional Interior Deep Cleaning Car Service
When it comes to interior deep cleaning car service, you may be wondering whether to tackle the job yourself or hire a professional. Let us explore the pros and cons of each option.
Pros and Cons of DIY Interior Cleaning
DIY interior cleaning can save you money and give you a sense of accomplishment. However, it requires time, effort, and access to the necessary cleaning products and equipment. Inexperienced individuals may struggle to achieve professional-level results and risk damaging sensitive surfaces.
Benefits of Hiring Professional Detailers
Hiring professional detailers offers several advantages. They have the expertise, experience, and knowledge to clean and restore your car's interior effectively. Professionals use specialized tools, techniques, and high-quality products to deliver superior results. Additionally, professional detailing saves you time and ensures convenience.
Cost Comparison: DIY vs. Professional Services
The cost of DIY interior cleaning mainly involves purchasing cleaning products and equipment. On the other hand, professional detailing services have upfront costs but provide expert results. While DIY may seem more cost-effective initially, professional detailing often delivers higher-quality and longer-lasting outcomes, making it a worthwhile investment for many car owners.
Tips for Finding the Right Interior Car Detailing Service
Finding the right interior car detailing service is crucial to ensure a satisfactory experience. Here are some of the tips to help you make an informed decision:
Researching and Comparing Local Detailing Providers
Start by researching and comparing local detailing providers. Look for businesses with positive reviews, established reputations, and a professional website or social media presence. Reading customer testimonials can provide valuable insights into the quality of their services.
Reading Reviews and Testimonials
Reading reviews and testimonials from previous customers can give you a better understanding of a detailing service's reliability, customer satisfaction, and attention to detail. Look for consistent positive feedback and consider the overall rating.
Requesting Quotes and Evaluating Pricing
Contact different detailing services and request quotes based on your specific needs. Evaluate the packages, services included, and any additional costs mentioned. However, remember that the lowest price doesn't always guarantee the best service. Consider the reputation and expertise of the detailers as well. If you are satisfied then, proceed with booking an appointment
Questions to Ask Before Choosing a Deep Cleaning Car Service
Before finalizing your decision, it's essential to ask relevant questions to ensure you choose the right deep-cleaning car service. Consider asking the following:
Are the Detailers Certified and Trained?
Ask about the certifications and training of the detailers. Certification ensures that the detailers have received proper training and possess the necessary skills to deliver quality results.
What Products and Techniques Do They Use?
Inquire about the products and techniques the detailing service uses. High-quality products and modern techniques are more likely to provide better outcomes and minimize the risk of damage to your vehicle's interior.
Is the Auto Detail Service Insured?
Ensure that the auto detail service is insured. Insurance coverage protects you and your vehicle in case of any accidental damage that may occur during the detailing process.
Maintaining the Results of auto detailing  service
To extend the benefits of auto detail service, it's important to maintain the cleanliness and condition of your vehicle's interior. Here are some recommended cleaning and maintenance practices:
Recommended Cleaning and Maintenance Practices
Regularly vacuum the seats and carpets to remove dirt and debris. Wipe down surfaces with appropriate cleaners to keep them clean and free from dust. Use specialized products for leather or fabric upholstery to maintain their appearance and condition.
Protecting Upholstery and Surfaces
Consider using seat covers or protective sprays to prevent stains and damage to the upholstery. Use sunshades to protect your dashboard and other surfaces from harmful UV rays that can cause fading and cracking.
Scheduling Regular Detailing Appointments
Schedule regular detailing appointments to keep your car's interior in top shape. Depending on your usage and preference, this can range from every few months to once a year. Regular detailing helps maintain the cleanliness and value of your vehicle.
About Clean Image Mobile
Clean Image is your trusted partner for mobile car detailing near me. With our convenient
services, expert technicians, premium products, customizable packages, and affordable pricing,
Clean Image guarantees a transformative experience for your vehicle. Don't let a hectic schedule prevent you from maintaining your car's pristine appearance. Contact Us today and let us bring back the shine to your vehicle, wherever you may be also read our Google reviews.
Frequently Asked Questions about "How Much Does Interior Car Detailing Cost?"
Q.How Often Should I Get My deep interior car cleaning?
The frequency of deep interior car cleaning depends on multiple factors, including your usage, the environment in which you drive, and personal preferences. As a general guideline, getting your car detailed every three to six months is recommended for maintaining its appearance and value.
Q.Can I Negotiate the Price of a deep cleaning car service?
Some detailing services may be open to negotiation, especially if you are a loyal customer or if there are specific services you'd like to exclude. However, keep in mind that professional detailing services have set prices based on their expertise, equipment, and materials.
Q.Are There Any Hidden Costs Associated with Detailing Services?
Reputable detailing services strive to be transparent with their pricing. However, it's always a good idea to ask for a detailed breakdown of the costs and inquire about any potential additional charges before booking a service. This ensures there are no surprises when it comes to the final bill.
Q.Final Thoughts on "How Much Does Interior Car Detailing Cost"
Regular car detail cleaning services are a worthwhile investment in maintaining your vehicle's appearance, comfort, and value. By understanding the factors that influence detailing costs, the different types of services available, and how to choose the right detailing service, you can make informed decisions that align with your needs and budget. Remember, investing in quality services and proper maintenance practices can have long-term benefits for both you and your car.