Mobile Car Wash and Car Detailing
Car cleanliness and maintenance are crucial to preserving vehicles' appearance and functionality. Regular washing and detailing enhance car aesthetics but also protect surfaces from contaminants and extend lifespan. In recent years, mobile car wash and car detailing services have become increasingly popular due to their convenience and effectiveness.
Mobile Car Wash and Car Detailing
A mobile car wash is a service where trained professionals clean and maintain vehicles with eco-friendly products. Unlike traditional car wash methods that require car owners to visit a fixed location, a mobile car wash brings the service directly to the customer's location, wherever they are.
 Mobile car wash services use less water. With less water consumption and less chemical runoff, mobile car wash contribute to a greener and more sustainable approach to car cleaning.
Benefits of Mobile Car Wash and Car Detailing
Convenience and Time-saving
One of the primary benefits of mobile car wash is its convenience. Call or book online for an appointment at your preferred time and location. For busy individuals with hectic schedules, this flexibility is especially beneficial. Mobile car wash professionals arrive equipped with all the necessary tools and products, ensuring a hassle-free and efficient cleaning process.
Personalized Services
Mobile car wash services provide personalized attention to each vehicle. The trained technicians carefully assess the condition of the car and tailor the cleaning process to meet its specific needs. Whether it's removing stubborn stains, addressing paint imperfections, or restoring the shine of the exterior, mobile car wash professionals deliver customized services that cater to the unique requirements of every customer.
Accessibility for Busy Individuals
Mobile car wash services are beneficial for busy people or those with limited mobility. They offer a convenient solution for those who cannot spare time to drive to a car wash facility or find it challenging to physically reach one. With a mobile car wash, car owners can clean their vehicles without interrupting their daily routines or compromising their other commitments.
Safety and Protection for Your Vehicle
A mobile car wash not only focuses on the car's visual appeal but also ensures its safety and protection. Regular cleaning removes dirt, dust, and corrosive materials that harm vehicle surfaces over time. Moreover, mobile car wash professionals use gentle yet effective techniques and high-quality products that safeguard the paint, glass, and interior components, preventing potential damage during improper cleaning.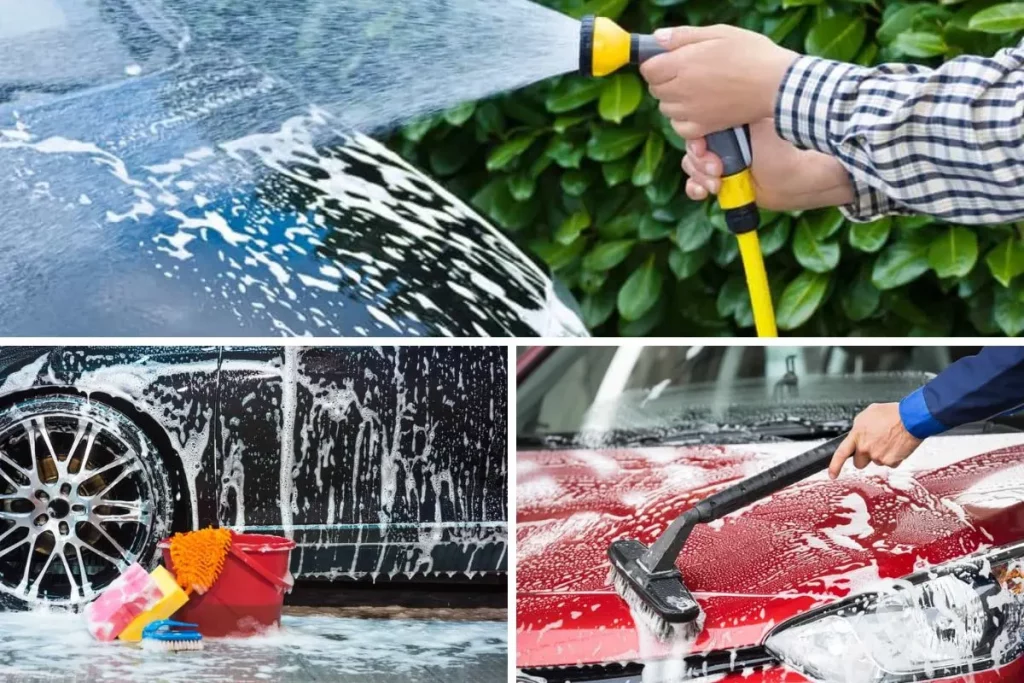 Types of Mobile Car Wash Services
Mobile car wash services encompass a range of cleaning options, both for the car's exterior and interior. The following are some common services provided by mobile car wash professionals:
Exterior Car Wash
An exterior car wash involves a thorough cleaning of the car's exterior surfaces, including the body, windows, wheels, and tires. It aims to remove dirt, grime, and other contaminants accumulated on the car's paintwork.
Hand Wash and Dry
Hand washing ensures meticulous cleaning by manually removing dirt and debris from the car's surface. It allows professionals to pay close attention to intricate areas and delicate parts that automated car wash systems may miss.
Waterless Car Wash
A waterless car wash utilizes special cleaning solutions that do not require water rinse. It is an eco-friendly option that conserves water while cleaning and protecting car surfaces.
Foam Wash
Foam washing involves applying a foam-based cleaning solution to the car's exterior. The foam encapsulates dirt particles, lifting them off the surface, and allowing for a more thorough cleaning. It is particularly effective in removing stubborn grime and enhancing the overall shine of the car.
Interior Car Wash
Interior car wash focuses on cleaning the inside of the vehicle, ensuring a fresh and hygienic environment for the occupants. It typically includes vacuuming, upholstery cleaning, glass cleaning, and air freshening.
Vacuuming and Upholstery Cleaning
Vacuuming removes dust, debris, and loose particles from the car's seats, carpets, and floor mats. Upholstery cleaning involves treating and removing stains, spills, and odors from fabric or leather surfaces.
Glass Cleaning
Glass cleaning includes cleaning and polishing all the windows and mirrors of the car, ensuring optimal visibility while driving.
Air Freshening
Air freshening eliminates unpleasant odors from the car's interior, leaving a clean and refreshing scent.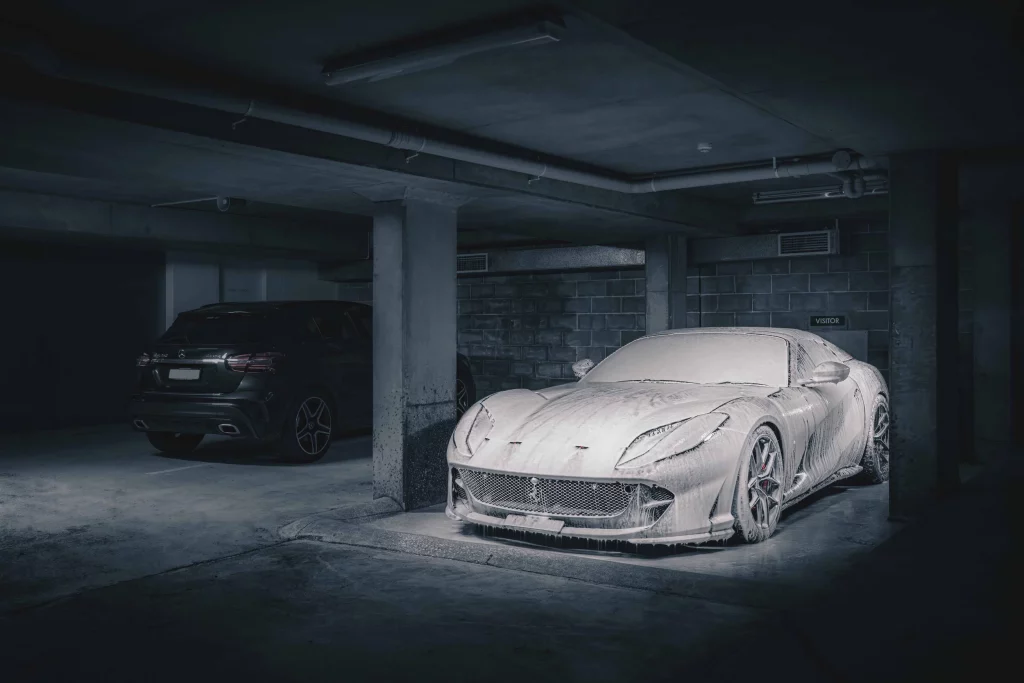 Car Detailing Services
Car detailing goes beyond regular cleaning and focuses on restoring and rejuvenating the car's appearance. It involves in-depth cleaning, paint correction, and protection to achieve a showroom-like finish. Here are some key car detailing services:
Exterior Car Detailing
Exterior car detailing primarily deals with enhancing the car's paintwork and external surfaces. It includes paint correction, waxing, and polishing to remove imperfections, scratches, and swirl marks while providing long-lasting protection.
Paint Correction and Restoration
Paint correction involves the removal of imperfections like swirl marks, light scratches, and oxidation from the car's paint surface. This process restores the paint's clarity and gloss, significantly improving the overall appearance of the vehicle.
Waxing and Polishing
Waxing and polishing protect car paintwork while adding depth and shine. The wax acts as a protective barrier against UV rays, contaminants, and moisture, preserving paint quality and preventing fading.
Rim and Tire Cleaning
Rim and tire cleaning remove brake dust, dirt, and grime from wheels and tires. It restores their appearance, giving them a clean and polished look.
Interior Car Detailing
Interior car detailing aims to deep clean and revitalize the car's cabin, ensuring a comfortable and pleasant driving experience. It includes the following services:
Deep Cleaning of Upholstery and Carpets
Deep cleaning removes ingrained dirt, stains, and allergens from the car's upholstery and carpets. It involves thorough shampooing, steaming, and extraction to restore freshness and extend the lifespan of the materials.
Dashboard and Console Detailing
Dashboard and console detailing involve cleaning and conditioning all surfaces, including the dashboard, center console, door panels, and other interior components. It rejuvenates the appearance and protects against cracking and fading.
Leather Treatment and Conditioning
For cars with leather interiors, specialized treatment and conditioning are essential. It nourishes the leather, keeping it soft and supple while preventing cracks and maintaining its luxurious look.
Mobile Car Wash and Car Detailing Techniques
To ensure the most effective results and avoid vehicle damage, mobile car wash and car detailing professionals employ the proper techniques:
Proper Techniques for Washing and Drying
Mobile car wash professionals follow a step-by-step process for washing and drying the car. They use appropriate techniques, such as using multiple buckets to avoid cross-contamination, employing soft microfiber wash mitts or brushes to prevent scratching, and using a specific order for washing different parts of the car.
Safe Methods for Interior Cleaning
For interior cleaning, professionals use safe methods that protect the car's surfaces and components. They select suitable cleaning products that are gentle on the materials and avoid excessive moisture to prevent damage to electronics or other sensitive parts.
Best Practices for Car Detailing
Car detailing requires attention to detail and meticulousness. Professionals focus on using high-quality products, following manufacturer guidelines, and employing techniques that bring out the best results. They pay special attention to paint correction, polishing, and protection to ensure a flawless and long-lasting finish. Also, discuss the cost of car detailing.
 Equipment and Products Used in Mobile Car Wash and Car Detailing
Mobile car wash and car detailing professionals utilize various equipment and products to deliver top-quality services:
High-Pressure Washers and Sprayers
High-pressure washers and sprayers are used to effectively remove dirt and grime from the car's exterior surfaces. They provide efficient cleaning power while conserving water.
Eco-friendly Cleaning Products
Mobile car wash and car detailing services prioritize the use of eco-friendly cleaning products that are safe for the environment and the vehicle. These products are free from harsh chemicals and minimize water runoff.
Microfiber Towels and Brushes
Microfiber towels and brushes are gentle yet effective tools for cleaning and drying the car's surfaces. They have excellent absorbency and do not leave lint or scratches.
Interior Cleaning Tools and Accessories
Interior cleaning requires specialized tools and accessories like soft brushes, crevice tools, and detailing brushes to clean hard-to-reach areas, vents, and intricate components without causing any damage.
How to Choose a Reliable Mobile Car Wash and Car Detailing Service
When selecting a mobile car wash and car detailing service, consider the following factors to ensure a satisfactory experience:
Researching Local Service Providers
Conduct thorough research to identify reputable local service providers. Look for companies with positive reviews, a strong reputation, and a proven track record of delivering high-quality results.
Checking for Insurance and Licenses
Ensure that the mobile car wash and car detailing service provider has the necessary insurance coverage and licenses to operate legally. This helps protect both the customer and the service provider in case of unforeseen incidents.
Reading Customer Reviews and Testimonials
Customer reviews and testimonials provide valuable insights into the service provider's reliability, professionalism, and customer satisfaction. Take the time to read reviews from previous customers to gauge the quality of the services offered.
Comparing Pricing and Packages
While price should not be the sole determining factor, it is essential to compare pricing and packages offered by different service providers. Look for transparency in pricing, ensuring that the cost aligns with the quality of service provided.
About Clean Image Mobile
Clean Image is your trusted partner for mobile car detailing near me. With our convenient
services, expert technicians, premium products, customizable packages, and affordable pricing,
Clean Image guarantees a transformative experience for your vehicle. Don't let a hectic schedule prevent
you from maintaining your car's pristine appearance. Contact Cleanimage today and let us
bring back the shine to your vehicle, wherever you may be also read our Google reviews.
Conclusion
Mobile car wash and car detailing services offer a convenient and efficient solution for maintaining the cleanliness and appearance of your vehicle. With their personalized approach, professional techniques, and high-quality products, these services ensure that your car receives the care it deserves. By choosing a reliable mobile car wash and car detailing service, you can enjoy the benefits of a clean and well-maintained vehicle while saving time and effort. Regular car maintenance is essential for both the longevity and aesthetic appeal of your car, so don't hesitate to give mobile car wash services a try.
FAQs
Q1: What is the cost of mobile car wash and car detailing services?
A: The cost of mobile car wash and car detailing services can vary depending on several factors, including the type of services requested, the size of the vehicle, and the service provider's pricing structure. It is best to contact local service providers for accurate pricing information.
Q2: How long does a mobile car wash and car detailing session take?
A: The duration of a mobile car wash and car detailing session depends on the scope of services requested and the size of the vehicle. On average, a thorough car wash and detailing session can take anywhere from one to four hours.
Q3: Is mobile car wash safe for my vehicle's paint?
A: Yes, mobile car wash services are safe for your vehicle's paint when performed by trained professionals. They use proper techniques, high-quality products, and gentle cleaning methods to ensure the integrity of the paint is maintained.
Q4: Can mobile car wash services remove stubborn stains?
A: Mobile car wash services are equipped to handle a wide range of stains and contaminants. While they can effectively remove many stubborn stains, some deep or permanent stains may require specialized treatment or paint correction procedures.
Q5: What payment methods are accepted by mobile car wash providers?
A: Mobile car wash providers typically accept various payment methods, including cash, credit cards, and digital payment options. It is advisable to inquire about the accepted payment methods when booking the service.
Q6: Are mobile car wash services available during bad weather conditions?
A: Mobile car wash services may be affected by severe weather conditions such as heavy rain, storms, or extreme cold. In such cases, it is recommended to reschedule the appointment to ensure the best possible results.
Q7: Are mobile car wash services suitable for all types of vehicles?
A: Yes, mobile car wash services cater to a wide range of vehicles, including cars, SUVs, trucks, and motorcycles. Whether you own a small sedan or a large vehicle, professional mobile car wash and car detailing can accommodate your needs.
Q8: Can I schedule recurring mobile car wash appointments?
A: Yes, many mobile car wash providers offer the option to schedule recurring appointments based on your desired frequency. This ensures that your vehicle receives regular maintenance and remains in optimal condition.
Q9: Do mobile car wash services offer any additional services like engine cleaning?
A: While mobile car wash services primarily focus on exterior and interior cleaning, some providers may offer additional services like engine cleaning or headlight restoration. It is best to inquire about these services when booking or discussing your requirements with the service provider.
Q10: Are Mobile Car Wash and Car Detailing services available in rural areas?
A: Mobile Car Wash and Car Detailing services are available in various locations, including rural areas. However, it is advisable to check with local service providers to confirm their service coverage in specific areas.